Unlock the power of cause marketing and connect with your community in a meaningful way!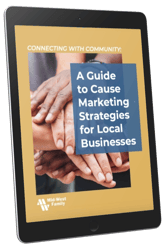 Cause marketing is a great strategy for getting your brand name out in front of your target market.
Download this eBook to learn:
✔️ What is Cause Marketing?
✔️ How Can Cause Marketing Benefit Local Businesses?
✔️ Cause Marketing Strategies for Local Businesses
✔️ And so much more!
Discover how to make a positive impact while building authentic relationships with your audience. Don't miss out on this game-changing resource—grab your copy now and start making a difference!
Fill out the form to get your FREE copy today.